"Volunteers are the heart of our organization!"
"Volunteers are the backbone of what we do!"
"We couldn't do it without you, volunteers!"
Sometimes it seems like everything being said about the role of volunteers at non-profits is cliché, but it's also true. Without volunteers donating their time and passion to the causes they care about, we wouldn't be able to function. Volunteers make it all happen! That's why this April, we are taking the time to celebrate our volunteers with National Volunteer Week (April 17-23).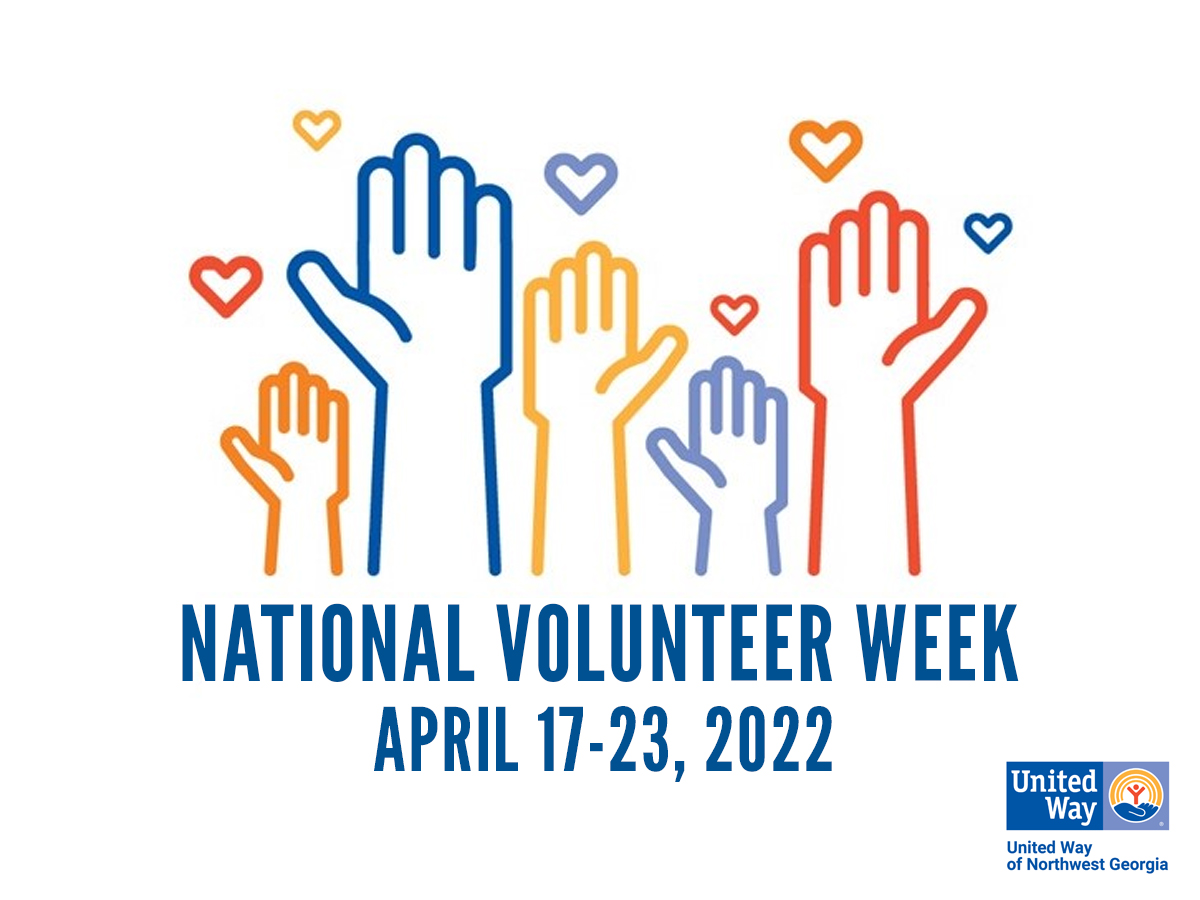 The theme for National Volunteer Week is Celebrating Service – an opportunity to shine a light on the people and causes that inspire us to serve. Volunteerism empowers individuals to find their purpose and passion, and turn it into meaningful change. When each of us, in our way, answers the call to make a difference, we make progress in solving our most persistent problems and create stronger communities.
National Volunteer Week is an opportunity to recognize and thank volunteers who lend their time, talent, voice, and resources to meet the critical needs of our communities. Their stories serve to inspire others to take action, to realize their power to make a difference, and be a force that transforms the world. National Volunteer Week is a time to celebrate the impact of volunteer service on our local communities. 
United Way wants to shine a light on some amazing individuals who have continued to create a lasting impact even during difficult times. Every year, United Way honors outstanding volunteers as a way to spotlight the work of our community's change-makers. These volunteers set an example every day. Volunteers are our neighbors, our friends, our family, and our children. By being a volunteer, you are setting the standard and you are changing lives. Whether it's feeding the hungry, comforting the sick, or cleaning up after your community, you are Building Better Futures.
This year we are hosting our 2nd annual United Way Virtual Volunteer Awards Ceremony, via Facebook Live on April 19, 2022. This event is about celebrating our incredible volunteers. United Way honors volunteers in Whitfield and Murray Counties whose service has exemplified a commitment to bring hope, promise, and opportunity to the lives of others. During our Virtual Volunteer Awards Ceremony, we are presenting two Outstanding Volunteer Awards, two $5,000 Elbert Shaw Memorial Scholarships, and 48 Presidential Service awards. The Presidential Service Award honors individuals whose service positively impacts communities in every corner of the nation and inspires those around them to take action.
Tune in to our Facebook live premiere at 6:00pm on Tuesday, April 19 to see who will be honored with the above awards.
If you're interested in volunteering with United Way of Northwest Georgia, please visit volunteernwga.org or contact Hayley Poillucci at hayley.poillucci@ourunitedway.org. Also, you can visit ourunitedway.org/volunteer-awards to learn more about United Way's Volunteer Awards! 
Now more than ever, people helping others is worth celebrating! Volunteers make so much possible and deserve our appreciation. How will you celebrate National Volunteer Week?